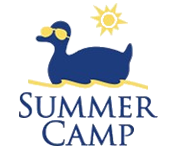 There are so many great reasons to send your child to summer camp! At Golden Pond School, our Preschool Summer Camp includes ages 3-4, while our School Age Camp is for Rising Kindergartners through Third Graders. In both our half-day and full-day options, our campers look forward to art, stories, science, in-house field trips, water fun, games and daily hands-on excitement!
Below are our staff's top 5 reasons to send your child to camp!

Keep Those Neurons Pumping
Participation in intentional programs, such as camp, helps promote learning during the summer months. GPS Summer Camp helps children avoid the "Summer Slide" by providing engaging experiences that enable the students to maintain skills they acquired during the school year. It also provides excellent opportunities for developmental growth, which help build the necessary foundation for future academic achievement. The hands-on nature of our quality camp program often helps children who struggle in conventional education settings.

Ready, Set, Go!
Outdoor time enriches a child's perception of the natural world and helps foster the development of their senses. At GPS Summer Camp, children can unplug from technology and participate in a variety of active challenges. Our program will provide a balance of planned outdoor activities with periods of child-directed, unstructured play.

Try It, You Might Like It!
Camp is the perfect place to try new activities and pursue new interests. According to recent research from the American Camp Association (ACA), 74% of campers reported trying new endeavors that they were initially reluctant to attempt. The campers who experimented with new activities at camp were also often left with lasting impressions. In the same ACA survey, 63% of parents reported their child continued new activities following camp.

Learning Life-Long Lessons!
GPS Summer Camp is much more than arts and crafts, entertaining songs, and water play. Our entire summer camp experience is full of teachable moments. Children strengthen their communication skills and learn how to navigate relationships. They also become more independent as they develop new skills and grow in self-confidence. Camp provides many wonderful opportunities for teamwork, collaboration and problem-solving.

Making Forever Friends!
GPS Summer Camp is the perfect place to strengthen existing friendships and meet new people. Summer camp offers a special type of community – it's a place of learning, laughing, growing, and celebrating. The relaxed nature of summer camp often makes it easier for children to feel comfortable and form new friendships. It is also a fantastic time to reconnect with old friends and create special memories. An old scouting song may have said it best, "Make new friends, but keep the old. One is silver, the other is gold."