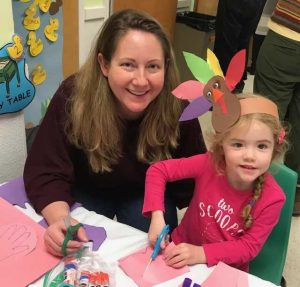 Our annual Thanksgiving Feasts are a special memory for our GPS Families! Joyful singing, delicious food and spending quality time with families in the classrooms is something we all look forward to each year.
Our Kindergarten students have been learning about the children aboard the Mayflower and took on their names and told their stories during a lively presentation. Everyone was excited to learn that a baby was born aboard the Mayflower! They played with toys that children played with during that time and discovered Jacob's Ladder is still a toy enjoyed by all children today.
The Preschool classrooms created Thankful Trees and hung notes of thanks on the limbs. Turkeys were made of play-doh and feathers, turkey hats were created with parents and child-made decorations filled the happy rooms. Chef Amel prepared a delicious turkey lunch and families brought in their favorite family dishes to add to the feast.
"Thanksgiving is the perfect time to remember those who enrich our lives and reflect on the many blessings we enjoy each and every day. Let us be thankful for our loving, supportive families, our loyal, encouraging friends and the caring community with whom we are most privileged to work. I wish everyone a holiday filled with peace and joy."– Lisa Moriarty, Principal