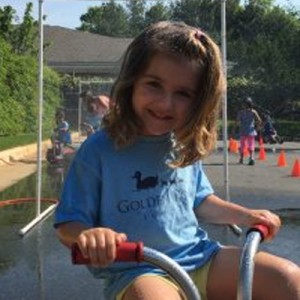 Still looking for an amazing summer experience for your kids? They can Play, Learn, Cook and Splash with us!
We offer camps for preschoolers (ages 3-4) as well as kindergartners through third graders. Our goal is to provide a unique camp experience with innovative ideas and creative themes to inspire campers as they explore new friendships and reconnect with old friends. All campers can look forward to cooking, in-house field trips, art, water slides, games and activities, science, stories, sports and daily hands-on excitement! Our school-age campers will also enjoy special off-campus field trips!
CAMP SCHEDULE:
Games Galore: July 5 – 8
Roll the dice, spin the wheel or slide your game piece! Everyday is Game Day! From family favorites to new fangled fun, we will play until the day is done. Campers can be their own token on our life sized board or help build a one of a kind putt-putt course. Golden Pond campers – let the games begin!
The Lab Coat: July 11 – 15
Find inspiration and think out of the box as we delve deep into concepts of sound, air and matter in our STEM camp. Lab coats and imaginative experiments will be provided for all ages! Experiment with screaming balloons and even watch matter change into a tasty treat right before your eyes!
Finger Lickin' Fun: July 18-22
Cups aren't just for drinking out of anymore! Stir up a scrumptious breakfast, a delicious lunch and a sweet treat – all in a cup! Join us as we get a little cheesy, create edible picture frames and sweet candy paintings!
What Goes Up Must Come Down: July 25 – 29
Defy gravity with an epic egg drop! Campers will be challenged and entertained as they experiment with magnets, mazes, catapults and inclined planes. The week will end with magnificent geysers and fizzing experiments – activities designed to bring the house down!
Water Work: August 1 – 5
Put the splish in your splash as we celebrate the hottest days of summer! Chilly ice races, floating art and water limbo are just a few of the cool water-centered activities and fun we have planned! This 'hot' water theme is sure to cool everyone off!
Reading Camp (rising K – first grade): July 18-29
Your children have come so far with their literacy skills during this school year! We encourage you to keep the momentum going and hope you child will join us for this two week session. Campers will experience reading through exciting games (both indoor and outdoor) led by highly qualified Golden Pond School teachers
Our summer camps are led by our very own professional Golden Pond teachers and staff. We offer an Extended Day for all registered campers, available weekly from 7:30am-9am and again from 1pm – 6pm. We also provide a daily drop-in and hourly drop-in option! Parents may register campers for drop-in the Friday prior to each week based on availability.

Camp Hours:
Morning camp hours 9:00a – 1:00p
Before camp hours 7:30a – 9:00am
Extended day camp hours 1:00p – 6:00p