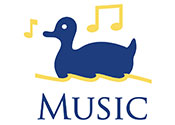 We're proud to offer exciting enrichment programs in music, art and Spanish, creating a well-rounded learning experience for our students.
At Golden Pond School, we correlate our Music and Movement program with our monthly classroom themes to encourage learning through musical play and song. Our students create sound by experimenting with a wide variety of hand-held instruments while developing both motor and social skills. Hearing the subtle differences in sound and pitch also increases phonemic awareness.
Through this program we've learned that when combined with printed words and verses, music and movement also greatly improves early reading skills. In fact, we've seen such amazing results that several of our teachers have been invited to present our strategies at the Virginia State Reading Association (VSRA) conferences every year since 2012.