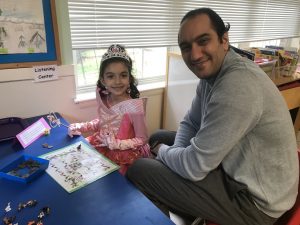 Golden Pond Kindergarten students hosted their parents with a magical Fairy Tale Tea last week. This March 29th culminating event was the result of a busy month of math, literacy, science and creative thinking for the Robin and Bluebird classes. Parents enjoyed Jolly Postman tea, lemonade, and homemade "Vanishing Oatmeal Cookies" by the students in honor of one of the fairy tale characters visited in the story, Goldilocks. Centerpieces were bean plants sprouted and nurtured by the students and then brought home to continue the magic.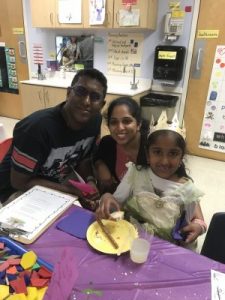 Leading up to this event, the Kindergarteners spent the month of March following the fictitious mail route of The Jolly Postman. While making his journey to the homes of different fairy tale characters, the Kindergarteners reviewed parts of a story and were inspired to write about "What Goldilocks Would Find in My Bowl" and "What I Would Trade for Magic Beans". Math games during March focused on number bonds to 10 and manipulatives included Jack's magic beans found inside golden eggs. The children transformed their lofts into the Giant's castle – a dynamic combination of art and literacy! It was another fun-filled month in Kindergarten.
Thank you to all who attended the fantastic Fairy Tale Tea!