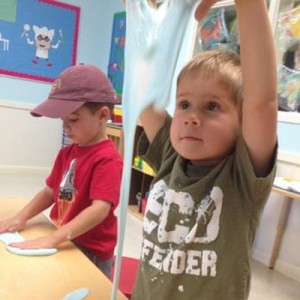 Golden Pond School is listening to our parent community and as a result, we are pleased to announce that we will offer a preschool option from 7:30am-6:00pm beginning with the 2016-17 school year.
Our priority is always to maintain the structure and integrity of our outstanding curriculum but it is necessary to remain thoughtful to the suggestion by many families that GPS offer a preschool extension beyond Lunch Bunch hours (11:30-1:30). With this in mind, Golden Pond School is pleased to announce that we will offer a "Stay and Play" option to our preschool students enrolled in the following 5 day morning programs: 3s, Explorers, 4s, and AM Junior Kindergarten. This means that your preschool student will still enjoy the engaging morning curriculum in that program's regular classroom until 11:30. Then, children in the "Stay and Play" program may move to a different classroom where they will have lunch and an afternoon snack, recess, nap/quiet time, circle time, table activities and more. "Stay and Play" will be open each week day and offers parents the flexibility to drop off children as early as 7:30am (for breakfast) and pick up as late as 6:00pm.
Golden Pond School is well-known for our unique home visits, so in order to ensure that our preschool teachers have them completed, the first day of 5 day preschool and Stay and Play will be September 6, 2016. Additionally, there will be an Open House for Extended School and Stay and Play students on Friday, August 26, 2016 from 1:00-2:00. This will be an excellent opportunity for your children to meet their extended school teachers and visit their extended school classroom.
We will continue to offer the Kindergarten/Kindergarten Enrichment Extended School as well as the Extended School program for 1st-3rd grade students. These programs will begin on August 29, 2016, the currently scheduled first day of school for Loudoun County students. This remains a valuable after-school resource providing students with a comfortable, fun and familiar place to spend the afternoon while enjoying recess, snack, theme-related and free choice activities, and homework assistance. The LCPS schools that Golden Pond picks up from are determined based upon demand; therefore, your request should be submitted early in the enrollment process (program request details to follow in a few weeks).
All Golden Pond School Programs will follow the Loudoun County Public School calendar with these exceptions:
the first day of school for preschool programs
Extended School for Kindergarten/Kindergarten Enrichment, 1st-3rd, and Stay and Play programs ONLY will follow the Federal Government inclement weather policy.
We hope that the new Stay and Play option for 2016-2017 helps accommodate the needs of the greater Ashburn community. Please email admissions@goldenpondschool.com with any questions you may have regarding this new offering.