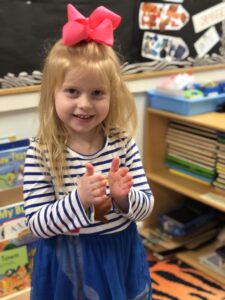 Students are back at the pond and are all smiles as they return to their classrooms after Winter Break. GPS is successfully providing our students the love and support they need to learn in a safe environment. Experiencing joyful learning in-person is vital for the developmental growth of young students and we are happy to see our students smiling. Our faces surely show it 🎶.
Younger children benefit from in-person schooling and interactions and thrive with small group and individual instruction. Our engaging programs for ages 2-6 have been adjusted for the safety of our students and staff while maintaining the core elements that make GPS unique.
The GPS community is facing the COVID challenges together and it is working. By grouping the same students and teachers together throughout the school day, staggering schedules, reducing class sizes and limiting guests in the classroom GPS has lowered the chance of exposure. Safeguards like temperature checks, increased hand washing, surface cleaning and individual school supplies are also important steps in our COVID19 protocols. Families and teachers are working together to make sure each classroom is doing what they can to successfully continue with in-person schooling. With these precautions in place GPS is keeping students healthy and giving them the quality education and socialization they need to thrive.
Learn more about our COVID19 policies here.