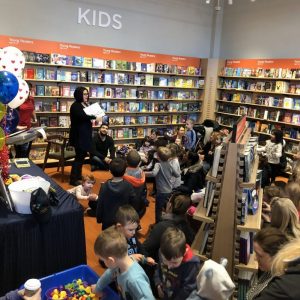 Golden Pond School is proud to announce a wonderful partnership with Barnes & Noble One Loudoun in Ashburn, VA. Barnes & Noble opened it's doors in November of 2017 and has quickly become a destination for our community to read, eat and relax. We were honored to be invited to the storytime hour and we were thrilled to bring the magic of Golden Pond School to the event were we had a beary good time!
Our wonderful teachers, Mrs. Pace and Mrs. Foster, brought the Bears + Valentine's Day theme to life for the children. A bear puppet introduced our teachers and set the stage for a non-fiction book about Bears. The piano and singing was heard throughout the store as we enjoyed the song Going On A Bear Hunt. Music & Movement is a wonderful way to engage and excite young children. The fun continued with a special Valentine Bear Scavenger Hunt throughout the children's section. Each child was able to keep their special bear as a Valentine's Day present!
The Valentine's Bears book was a big hit and the children enjoyed sensory tables filled with items correlating to the story. The sensory bins contained bears and berries that were sorted by size and color. Then our new friends created Bear Valentine necklaces that highlighted their age. Position words like over, under and behind were cleverly taught during the song The Bear Went Over the Mountain. The storytime ended with more singing and dancing and lots of smiles!
Reading to a child helps them understand that print makes sense and they will start to recognize high frequency words. Research shows that children need to be read 1,000 books before Kindergarten. Golden Pond School is dedicated to instilling a love of learning through a brain based curriculum through creative, hands-on activities that incorporate reading and a love of books.