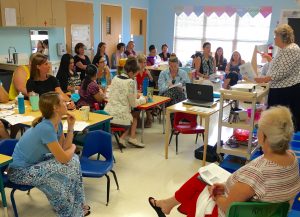 Every August, Golden Pond School teachers, assistant teachers and administrators gather for Teacher Training. Returning and new faces eagerly set up their classrooms and become students for the week! Kathie Burrell, owner of GPS for 15 years, always creates an exciting and inspired presentation. One of this year's training topics will revisit a necessary but favorite theme — a child-centered classroom. Another training will examine the special magic that regular routines give to an early childhood classroom.
Susan Leone, preschool and Stay & Play teacher, says "I enjoy getting tips from my fellow teachers and I always look forward to the fun and creative ways Kathie presents her ideas. One year, to remind us how it is for a child to learn things for the first time, Kathie brought in interesting fruits and vegetables for us to taste that we had never had before. Seeing something new through a child's eye helps to reinforce our dedication to creating a comfortable learning environment for the children."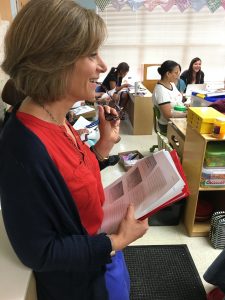 As Susan remembers from a past Teacher Training week, Kathie Burrell used The Golden Pond Way of teaching to imprint the idea of stepping into a child's point of view to our teachers. Just like in our classrooms, when you engage the senses in an enjoyable activity it makes a lasting memory. The Golden Pond Way of teaching and the high-quality staff is what makes Golden Pond unique and successful!
Kathy Sestak, GPS teacher of 10 years and current Private Kindergarten teacher, always looks forward to Teacher Training. "I learn new concepts each year and find creative ways to apply that to my classroom. My excitement then carries over into my lessons and the students have fun learning!"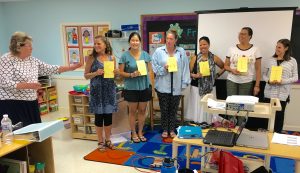 Teacher training at Golden Pond School is a time for all of our teachers to broaden their knowledge of early childhood education, exchange ideas and prepare the school for the magic that lies ahead. Mentoring by established GPS teachers is critical to the successful development of new teachers and we are very proud of our meticulously assembled staff. Golden Pond School teachers have unparalleled credentials and a passion for early childhood education.  The support we give our teachers helps them to further develop the skills required to effectively navigate the school year ahead; ensuring a successful classroom for both children and teachers.  Great teachers inspire great students!