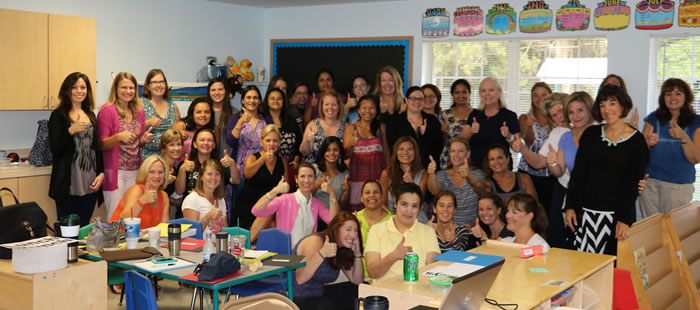 Golden Pond School wants the world to know that our accreditation is a reality!
The AdvancED Accreditation Commission recently met and officially announced that Golden Pond School has been granted accreditation. According to AdvancED, "The school has adopted a mission to use brain-based instructional methods to educate the whole child in a developmentally appropriate and nurturing environment. That mission is carried out passionately and with fidelity by all staff members in all classrooms. The school's children are highly engaged in a theme-based instructional process that allows them to connect prior knowledge to new learning."
Parents face a variety of school and daycare options in today's marketplace. Accreditation is a sign of a high quality early learning program and is an important consideration when deciding on your child's educational foundation. It indicates a commitment to continuing improvement – in business practices, curriculum, administration, staff development, parent stakeholders, and the facility.
Accredited preschool and Kindergarten programs benefit families, as well. Parents receive the security and assurance that their child will be educated and cared for by qualified, well-trained and experienced staff. Additionally, a child will be placed "in Loudoun County Public School first grade without a trial placement if he/she was enrolled in and successfully completed a Kindergarten program in a non-public school recognized as participating in the accreditation program under the auspices of Virginia Council for Private Education (VCPE)."
Kathie and Steve Burrell, the founders and owners of GPS, declared, "This is truly a watershed accomplishment! We were thrilled to witness the faculty and staff united in their efforts through the entire year-long review process. Our accreditation reflects the quality education that our parents and students have known and experienced at Golden Pond School."
Margaret Grace, Admissions Director, added, "It is so important for our enrolling families to understand that there is significant value in the quality education offered at Golden Pond. We've always known that we don't just talk the talk, we walk the walk! It's wonderful that we've received that validation through AdvancED."
Receiving a Five-Year Term of Accreditation requires strong teamwork and commitment at all levels. Lisa Moriarty, Principal, says, "We are so proud of this achievement. It is official recognition that Golden Pond School voluntarily put itself through a rigorous review process and demonstrated to an External Review Team that it is the premier school for early learning in Loudoun County. Parents can expect the best at Golden Pond and give their child a real advantage in their academic future."
Please join us in celebrating Golden Pond School's accreditation and sharing this news with your friends.