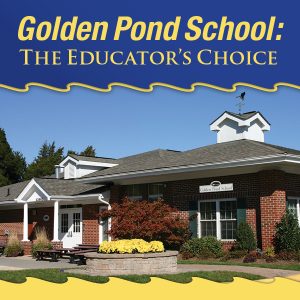 Educators recognize a stellar curriculum and quality teachers. They understand the time and effort required to create strong relationships with children. Educators value the passion it takes to ignite a child's curiosity and desire to learn, and know that the right balance of academic and social opportunities lays a strong foundation for confidence, independence and joyful learning.  This is why so many of our GPS Families are teachers and school administrators.
Parents express their appreciation in a variety of ways, and we value each and every one. A beautiful, heartfelt letter was recently received from a GP parent who is also a long time educator.  It demonstrates the impact that our teachers and programs can have on students who begin their formal education here.
"As the year comes to a close, we wanted to take a moment to express our heartfelt thanks and appreciation not only for Golden Pond, but especially for two teachers who have made a world of difference in our daughter's life. As an LCPS elementary school teacher of 15 years, I know firsthand the incredible amount of work that goes on to create success of this nature."
Because of her shy and reserved nature, her parents were concerned that teachers would not see her full potential. As they learned, our experienced and loving teachers are able to gently challenge students and help them excel socially, emotionally and academically.
"Because of Mrs. Rocha and Mrs. Culfogienis, our daughter thrived this year and we were delighted to see her grow in ways that we had only dreamed about...We have seen the amazing effect their teaching skills.. have had on our daughter. She has simply soared in their care, not just academically, but also socially and emotionally. She talks at home about her teachers frequently.. makes connections between what she's done at school to what we're doing at home. Her love of learning is truly evident, and her communication skills continue to grow and astound us. She plays with children in a way we had never seen before and both initiates and engages in conversations with others. She no longer cries or hides when adults talk to her, and she has joined her first ballet class with confidence and enthusiasm"
At Golden Pond School our faculty and staff are meticulously assembled over many years with unparalleled credentials and a passion for early childhood education. Our teachers have an average of 14 years' experience teaching young children, and many have master's degrees. Our administrative team also brings a wealth of experience from diverse fields, earning them respect and appreciation from busy parents and teachers alike.
"We know these things have come from her preschool experience, particularly the loving, guiding nature of Mrs. Rocha and Mrs. Culfogienis. We are so grateful our daughter was given the opportunity to be in their class. Many other teachers would have coddled her, asking her only to do what they observed her to be capable of. However, they saw more in her, pushed her out of her comfort zone and consequently, she excelled."
Golden Pond School is dedicated to teaching the whole child through hands-on learning and play. Our dedicated team, their commitment to children, and the innovative Golden Pond Way curriculum is what makes Golden Pond School a true gem in the Ashburn community.
---
Additional Educator Testimonials:
"I love the warm and welcoming atmosphere. All of the staff and teachers made my son feel very comfortable. As an educator, I immediately noticed and valued the academic rigor of the KE program and that the curriculum is presented in a very creative, hands-on way. The classes delve deeper into topics and are more challenged than at my son's morning Kindergarten program. When he came home from school, everything he was excited about and wanted to share with me had happened at Golden Pond!"
 – William, GPS Parent & PWPS Educator
"While searching for a school for my daughter it was extremely important to me to find a learning environment that was as much like the one I sought to provide for the many preschoolers I have taught over the years. I wanted a school that first and foremost saw my child as a unique individual with varied interests and personality traits–and used that knowledge to help her learn and grow in the way that was best for her. I wanted professionals who were informed by developmentally appropriate practice and primarily used a play based learning approach, as children learn so much better through an atmosphere that is fun and engaging with various learning opportunities provided by and amongst their peers. And finally, I wanted a school that put her social emotional development at the forefront, as I believe the preschool years are the most important ones to help our children become the self-aware, kind, independent, and resilient individuals we truly want them to grow to be. I have found Golden Pond to do all this and more in the year we have been at this school. I am continually impressed with the teachers and staff, and my daughter's excitement while relaying the events of each school day in detail tell me we made the right choice with GPS! We are so happy to be continuing her journey there next year!"
– Holly P., GPS Parent and Educator
"As a former teacher, I recognize how important it is for a teacher to see each child as an individual learner with different strengths and challenges.  I love how GPS tunes in to each child and makes their learning experience rewarding and relevant to them.  It allowed our daughter to grow in her own love of learning and gave her such pride in her accomplishments … I immediately loved how GPS approached learning new things from so many different perspectives.  A child learns faster and retains information longer if they experience it, rather than just hear it.  Golden Pond takes this to new levels.  Learning is hands on.  They build, experiment, touch, taste and create.  Our daughter still points out levers and pulleys and inclined planes from when she got to build them and test them out 3 years ago!  She has carried this over to Elementary School and has an academic confidence that came from being given the opportunity to learn on so many different levels."
 –  Melissa F., GPS Parent and Educator