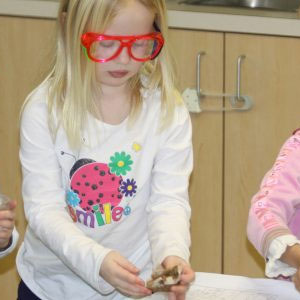 As it is widely acknowledged that literacy is the cornerstone of all learning, the manner in which we teachers approach literacy is essential. A school's approach to literacy sends all kinds of messages to students. For instance, we could tell them that print is all about phonemes and decoding as we sit them in front of a workbook. Or we could announce to them that unlocking the secrets of print is an exciting journey that will simultaneously unlock the secrets of the vibrant world around them as we delve into interesting projects. We prefer the latter – wouldn't you?!
At Golden Pond School, we have chosen to link our students first steps into literacy with the exploration of the world around them, as reflected through children's literature. Our hands-on, science-based activities are built upon the theme-related books that our children are enjoying. On any given day, after reading stimulating and thought provoking classic children's literature, our students can be found:
discovering how chicks hatch
taking rain walks
painting with ice cubes
mixing red and yellow to make the perfect orange
planting pumpkins
constructing weathervanes
exploring the metamorphosis of ladybugs
taking spider walks
going on worm hunts
Come see the fun and ask the kids "why?" – you'll be surprised by their scientific responses!