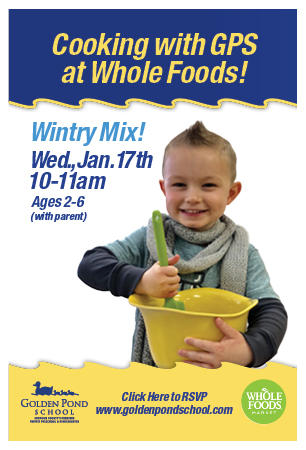 Wed., Jan. 17th, 10-11am
Please join us for a fun-filled FREE Wintry Mix event with Golden Pond School, Loudoun County's Premier Private Preschool and Kindergarten, at Whole Foods Market in Ashburn!
Children will learn about winter weather, clothing, foods and more while making creative snacks and projects! Enjoy Cooking, Sensory Bins, Music and Movement, Storytime and more!
Children ages 2-6 are invited with a parent. Please RSVP for your children (adults do not need to RSVP) as space is limited and indicate the name and age of your children. Because of space limitations, children above the age of 6 are not able to attend the event.
At Golden Pond School we are dedicated to teaching the whole child, including healthy meals. Learn more about the GPS menu here: https://goldenpondschool.com/menus/