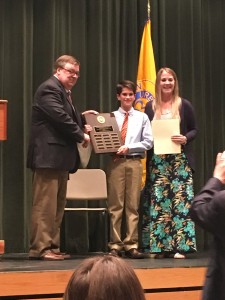 Thomas was a Golden Pond student from 2007-2010. He graduated from Ashburn Elementary School and will be headed to Farmwell Station Middle School Fall 2016.
We are proud to share that Thomas was awarded The 2016 Ruritan Award for Outstanding Student Citizenship by Ashburn's local Ruritan Club. The award is based on ethics, morals, and leadership characteristics voted on by the entire Ashburn Elementary School staff. A special engraved plaque hangs in each Ashburn Elementary school with the recipients names.
"I really did my homework when researching preschools for our kids! My husband and I are both teachers and we had very specific ideas of what we were looking for. For Thomas, being our first, this was a new experience, but we have NEVER doubted our decision to send all 4 to GPS. Golden Pond introduced learning to our children in a positive, meaningful way, outlining an overall philosophy that school is a fun and enjoyable experience. GPS definitely instills a sense of confidence in their students, and I feel, supported the already kind spirit that Thomas still possesses today." Tracy Young.