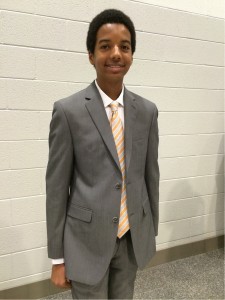 Julian R. was a Golden Pond School student from 2006-2008. He entered as a 4 year old in the Lions class followed by Lunch Bunch 3 days a week. His teachers were very kind and nurturing. One of the friends he made in Lunch Bunch, is still one of his closest friends! The following year, Julian continued at GPS for Kindergarten Enrichment. This was a wonderful experience! He still remembers the field trips to see a home construction site and best of all, the Capitol in Washington D.C. Throughout elementary school, a life sized cut out of the pilgrim Julian made to go along with the curriculum hung in his room.
During elementary school, Julian was a member of the Cub Scouts, safety patrol, and participated in science fairs. He was a finalist in spelling bees and in 2012-2013, Julian became the National Geography Bee champion at Seldens Landing Elementary School. Odyssey of the Mind was an important part of Julian's elementary years. His team, which included several other GPS Alumni, successfully competed and represented the state of Virginia at the World Final Championship held at Michigan State University in 2013. Upon promotion, Julian received the President's Award for Academic Excellence.
Julian was a honor roll middle school student, a library volunteer and a finalist in spelling bees and the geography bee. Musically, Julian was selected to the Concert Choir and District Choir, 2 years in a row. He was also an ensemble cast member in a Riverhawk Productions musical. Julian's sports interests include basketball and cross country running. Golden Pond is proud of all of Julian's accomplishments and know he will continue to succeed as he moves on to High School!