Karyn, Steve, AJ (9), Bryan (6), Brody (4)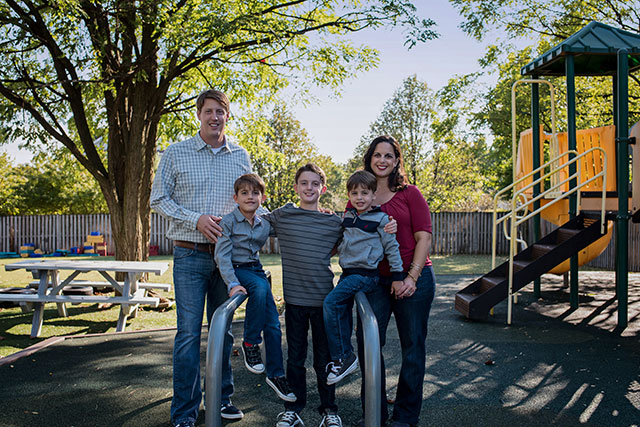 Our 3 boys have been attending Golden Pond School since 2010 in the pre-school, Kindergarten, aftercare and Stay and Play programs. All of the boys have attended many years of Summer Camp and love the themes and fun in the summer months!
GPS is a warm and welcoming preschool from the moment you enter the doors. I instantly knew it was the right fit for our family. The administration, teachers and every single person at carpool gets to know the families and is always so genuine and friendly. It's obvious the staff loves it there and the classrooms are filled with loving, dedicated and well-educated teachers. I love the hands on projects, creative ways to learn and the overall family feel of the whole school.
I tell prospective families you can feel confident and at ease about choosing GPS and knowing your child is in the BEST place to learn and have fun. The safe and loving environment is the kind of place that I never worry about. My boys always love to go there and never want to leave. Even in the Stay and Play and aftercare classes, my kids never tire from the fun at GPS. The after care programs have themes, 2 teachers and lots of fun learning activities that are engaging to children.
The friendships at GPS are forever. I still have a mommy group from my 4th graders parents and my 1st graders parents. We do dinners, moms night and even travel together. The children are still close to those friends and we keep up with birthdays, playdates and family get-togethers. GPS families are my closest friends!
My boys have learned so much from GPS. They grew in their academics, confidence, classroom behavior and have made lifelong friends along the way. They love to tell their little brother Brody all about their days at GPS. The Kindergarten Fly Ups have been so special and make me tearful. The Halloween parade is always a fun event and I love the fall field trips.
I can't say enough good things about GPS – especially Kindergarten. The units each month are well thought out and the children have so much fun with each theme and integrating learning with them. It's very hands on with a ton of fun games, projects, circle time, interactive play and just overall a great balance for learning and having fun. They made it a place to love learning because their themes pull the kids interest in and the mix of centers/loft time/library/adventures and field trips got him eager to work hard and learn. I was in tears at Kindergarten graduation because it was such a fun environment and instilled a love of learning and reading that makes me smile.