Jenn, Riz, Sofia (3 1/2), Lyla (2), Nora (8 weeks)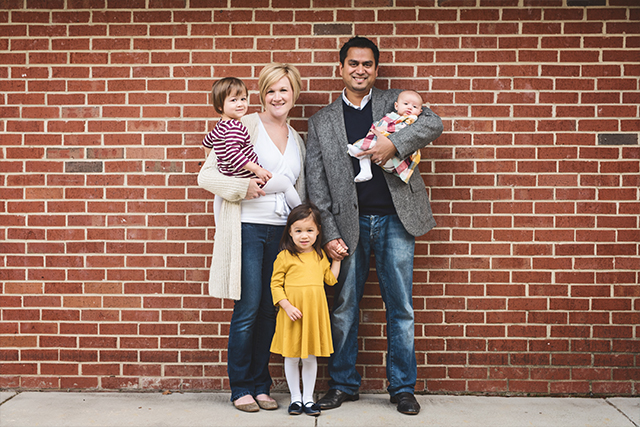 We are the proud parents of Sofia (3 1/2 years old), Lyla (2 years old), and Nora (8 weeks old). We were both raised in public school systems in Springfield, VA and Buffalo, NY. We loved our schools growing up. We realized that the first several years of a child's education is critical, especially for long term happiness and success. So it was important that we found Sofia the right school.
After relocating back to Northern VA, we searched several schools that shared our philosophy of a structured, creative education within a small classroom. We then heard about the Golden Pond School from a few of our neighbors.
From the moment we toured GPS, we immediately knew that this was the school for Sofia. The school's ambience was warm and inviting, and the energy of the teachers was very genuine and positive. Within minutes of meeting Margaret Grace, Admissions Director, we instantly felt this was the perfect fit.
Sofia was enrolled in the 2-day Monkey's class last year with Ms. Leone and Ms. Cicheskie. We were so impressed with the home visit before the start of school. Ms. Leone took the time to familiarize herself with Sofia and even toured her bedroom. This home visit made Sofia's first year at school a seamless transition. The car drop-off has also been a well-oiled, organized process, which created a stress-free morning / afternoon for all of us. The 30 minute drive from South Riding has been worth the commute!
The curriculum has been incredible, with a unique hands-on approach to learning activities. We love the weekly newsletter updates from the teachers. The teachers are easily accessible and very responsive. We couldn't ask for a better teacher:student ratio, with 2 teachers to every class. School events such as the Halloween Parade, Thanksgiving Feast, Memories with Mom, Donuts with Dads have been memorable and amazing.
We also felt an instant connection with the other parents. We loved the back-to-school night event, a very nice forum to speak to teachers and meet other parents. From play-dates to birthday parties, the extracurricular events have fostered great friendships for not only Sofia, but for us with the other parents as well!! We continue to keep in touch with parents and hope to do so for years to come.
One year later, Sofia is in the Three's Program, 5 days a week as a Duckling. She is happy, confident, independent, and very social with her peers. She is thrilled to go to Golden Pond School everyday!! We are happy to see Sofia speak highly of her teachers and classmates, and this makes us very happy. We feel like we are part of the Golden Pond family and look forward to enrolling Lyla and Nora when they get older!