Daphne, Eric, Weston (5), Wilkes (3), Whitaker (2), Willoughby (5 weeks)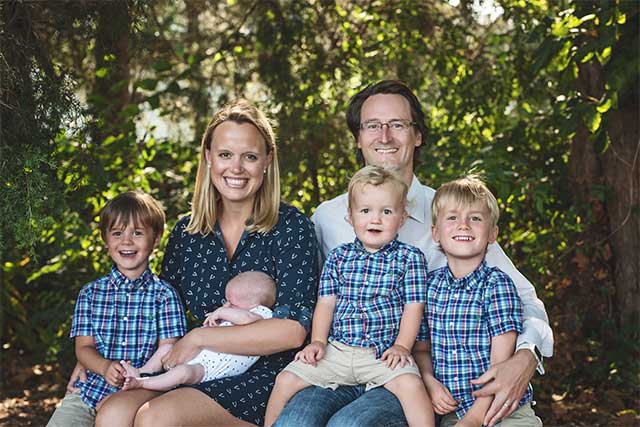 Our first steps through the doors of Golden Pond School told us this was a special place. Those initial impressions of warmth and welcome have held true every day since. As a family that values academia, we were looking for a school that also values teaching children how to learn, how to think, how to be curious, and above all to love school and the explorative learning process. Our fantastic experiences here have confirmed that Golden Pond School instills a love of learning while meeting our children's emotional and physical needs. Wilkes is full of excitement and constantly in motion, and it is refreshing to find a school that not only embraces but celebrates his individuality while channeling his energy into constructive activities.
This past summer we moved from Alexandria to Willowsford to better meet the needs of our growing family. We had explored several preschool options in Loudoun, but as soon as we finished our tour with Margaret Grace we found ourselves sitting outside in the warm sun filling out all the enrollment paperwork. Weston and Wilkes then had an amazing, fun filled summer camp experience. Wilkes has continued on and is now a Giraffe in the 3s class with Ms. Nicolai.
After summer camp and before his first day of school, Ms. Nicolai actually came and visited our home to meet Wilkes. This was a wonderful introduction for him, putting him at ease with the pending transition to preschool. Honestly, it also set us at ease knowing the coming school year would be a fantastic experience guided by an excellent educator. The whole experience has been lovely and we couldn't be happier with the results we are seeing. Wilkes is buzzing with happy energy at the end of the school day, has made many friends, and genuinely enjoys going to school. Each morning as soon as the key turns to start the car, the words "when are we going to be there" come singing out of the back seat. He regularly surprises us with new vocabulary, speaking in Spanish, sharing an art project, or mentioning something that exposes the depth of the GPS theme-based learning system. He is engaged, creative, and exploring the world around him. He is learning how to learn! We also love the frequent and excellent communication home from Ms. Nicolai about Wilkes and the rest of class.
As parents, we are also impressed with the administrative operations. Golden Pond is clearly a well-oiled machine that is kept in perfect working order by a loving staff. The communication is frequent and excellent, the drop off and pickup process is smooth and peaceful, and the facilities are neat, clean and tidy.
Most importantly, all the faculty and staff are genuinely happy to see Wilkes each day. Everyone exudes the warm feeling of welcome that you would expect from family.